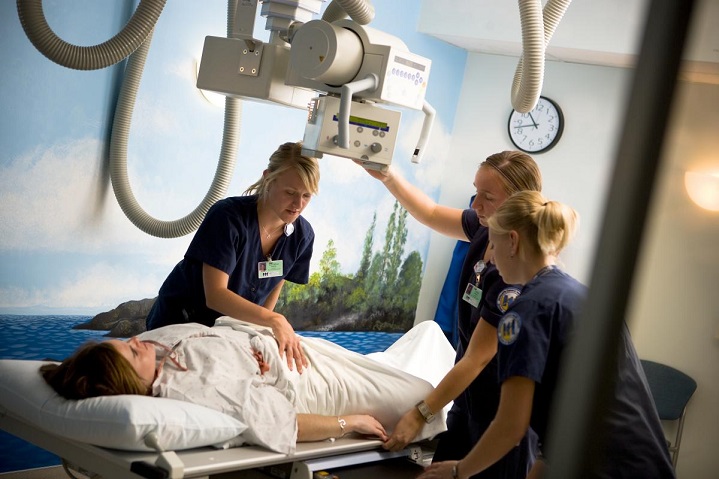 Radiology is a professional course in the paramedical field, offered to help individuals become professionals in performing diagnostic tests related to various medical treatments by using radiation technology.
In simpler terms, radiology involves the skills of using different scientific equipment to take pictures of the human body's hidden and internal portions. These images are required in the process of identifying ailments and diseases. The technologies involved in this process are ultrasound, CT scans, X-ray, MRI, and many others.
A considerable level of technical expertise is necessary for the profession of radiology. The professionals are called radiographers who obtain a valuable place in a healthcare team found in the department of diagnostic imaging, emergency and accident, ICU or intensive care unit, operation theatre and other departments in a medical facility.
Radiographers are trained professionals who have knowledge of taking an MRI, X-ray, CT scan and other forms of equipment. Sometimes, a radiographer has to assist in the treatment of radiotherapy, provided to the patients of different types of cancers. Radiographers with the ability to take ultrasound tests are also called sonographers.
The field of radiography presents a promising career opportunity in the field of healthcare. There is a demand for well-trained and qualified radiographers. The significant development in medical technologies is presenting new opportunities for people, seeking a career in the healthcare industry.
Radiology course offered at OSPMC is helping in building a strong career and providing talented technicians in the industry.
The radiation technology has become an important part of the medical and healthcare industry. Great opportunities are available for experts who have the qualification to operate and understand the technology.
To make the career path easier and promising, OSPMC offers the three years' degree program in Radiation Technology. We include the practical approach in our course, which helps the students to become valuable professionals in the industry.
The bachelor program includes the knowledge of the X-ray technology, the posture, and the procedure to complete the radiation scan. The developed skills during the program allow the students to handle the professional job effectively and grow as the radiation technicians.
Radiology bachelor degree: what does it include?
Radiographers are high in demand in India as well as in other countries. While studying a radiology course, students gain in-depth knowledge of topics and subjects such as Radiobiology, Radiotherapy, Palliative care, Clinical Trials, Clinical Chemotherapy and others.
A bachelor degree in Radiology at OSMPI covers the study of Therapeutic as well as Diagnostic Radiology. This involves the modern-age treatment methods applied to tackle various tumours and cancers.
X-ray diagnosis: The concept of radiology started when X-rays were discovered. This discovery changes the health and medicine field forever. A radiographer learns the ability to use X-rays for image creation of the body parts inside the body. Such images help to diagnose diseases, broken bones and multiple other things, which make the job of a radiographer valuable in the field of medical care. A radiographer can use X-rays to identify bones and foreign objects, so physicians can follow the best way to treat a patient.
Internal-body imaging: The study of radiology also involves other imaging technologies like MRI, CT Scan, Angiography, and Fluoroscopy. A qualified radiographer can use different technologies to create real-time images of the blood vessels, digestive system, and even the 3D and 2D maps of body tissues. Even the most common diseases would become difficult to diagnose without reliable radiographers.
Physicians need highly educated and trained radiographers:
The modern-age medical field depends heavily on the expertise of radiographers. Doctors need accurate assessment and diagnostic tests to find out the problem and choose the right medical treatment plan for a patient. Not only radiographers are supposed to accurately perform prescribed evaluations, but they need to offer their support and care for patients as well, so the patients can feel ready for the tests.
It is a radiographer's responsibility to explain the test procedure and answer patients' queries. Professionals also know how to conduct tests carefully, especially with the pain-sensitive areas of the body.
Radiology is in the centre of disease management
Disease management is a specific field of medicine where radiology holds immense importance. The techniques, tools and qualified radiographers allow doctors to quickly detect diseases and follow a suitable treatment plan. This is the reason why bsc radiology courses are so much in demand nowadays. Diagnostic imaging is a critical process to acquire detailed information related to the condition of a disease or organ inside the human body. Accurate detection at the early stages of illness or injury becomes a matter of life and death in many cases.
Radiographers save lives with their expertise in using powerful equipment, and offering their care and assistance to make patients comfortable. A better idea of what is happening in the body has been possible with radiology. And, to leverage the advanced technologies in the area, medical facilities and physicians need qualified professionals, who are reliable.
As a result, radiology has become one of the exponentially growing career choices in the field of medicine.
Who should opt for our B.Sc. course in radiology?
Individuals, who are objective, sympathetic, calm and patient in their approach towards people suffering from injuries and/or diseases, can choose this field. At the same time, they need to have an interest in learning the practical use of medical technologies. Plus, they should hold traits like willpower, tolerance, confidence, a sense of purpose and a strong mindset. These traits can help an individual become a skilled professional and an empathetic care provider.
This field of work also requires interpersonal skills to communicate with physicians and other members of a medical team. Along with that, a scientific mind, a strong technical grasp, and quick learning are valuable capabilities. While studying or working, radiographers need to adapt to many things at once. Hence, a keen interest in the field is extremely important, so they can pay attention to details and become a competent professional.
If you find yourself in the above-mentioned criteria, radiology would be a perfect career choice for you!
Eligibility requirements
Qualification: The candidates with 10th, 10+2, B.Voc., B.Sc., B.A., B.Com. or any equivalent qualification can apply for the admission in the degree program.
Age: There is no age restriction.
The course structure
In this 3-year long degree program, the students go through multiple stages of learning. Both the theoretical as well as practical approaches are leveraged to teach. The helpful faculty shapes the skills of the students and prepares them for real-world scenarios.
This radiography course prepares students for real-world scenarios, so they can perform their job with confidence. The course structure is divided into semesters that cover all sorts of concepts and topics related to radiography. Initial semesters cover the fundamentals, while the complexity of concepts increases gradually. As a result, students attain an in-depth, retainable knowledge of subjects like Anatomy, Pathology, Physiology, Radiation, General Radiography, and many other advanced-level topics.
Career opportunities for the bachelor of Radiology Course
Multiple reputed government and private hospitals hire professional radiation technicians. After becoming a bachelor of radiation technician, one can join a reputed radiology centre, clinic or hospital as a supervisor. The degree will allow you to further grow in your career as you get more and more experience.
Graduates attain the eligibility to take various academic posts such as a professor or lecturer in one of the many government and private institutes.
Radiology graduates can become professionals in many areas like Computed Tomography, Basic X-Ray, Bone Densitometry, Mammography, Angiography, Fluoroscopy, Cardiovascular Interventional Radiology, Interventional Radiology and many others.
Here are a few popular job profiles radiographers can attain with successful completion of this course:
Physiotherapist: As a physiotherapist, you are supposed to assist patients who have physical difficulties associated with an injury, illness, aging or disability. Your professional assistance can help in the improvement of such patients.
X-Ray Technician: As an X-ray therapist, you operate X-ray equipment in hospital rooms, medical centres, emergency hospitals, and other facilities. Most healthcare facilities require such technicians in their radiology departments.
Therapy Radiographer: As a therapy radiographer, you get to use advanced radiography equipment in hospitals oncology departments. The therapies are provided to cancer patients for treatment.
Radiation Protection Expert: As a radiation protection experience, you test and analyse x-ray equipment, conduct inspections of the location where the equipment is placed and used. Also, you evaluate the procedures of operations to identify and manage radiation levels. This is an important job to prevent radiation-associated hazards.
Diagnostic Radiographer: As a diagnostic radiographer, you utilize radiation in various forms such as magnetic resonance, x-rays, and ultrasound. Every utilization has its purpose in assessing, diagnosing and treating patients who are suffering from different kinds of diseases and injuries.
Why choose us
Our faculty members have served in the healthcare industry for years. Hence, you get to learn from the experienced professionals at OSPMC. Plus, the availability of the latest technology allows you to practice your skills and become ready to start working immediately after the completion of the course.
Contact us now to inquire about the admission procedure.