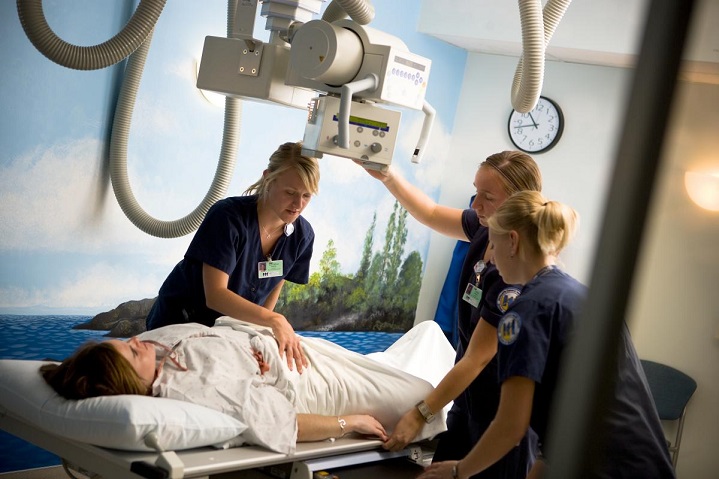 Radiology course offered at OSPMC is helping in building a strong career and providing talented technicians in the industry.
The radiation technology has become an important part of the medical and healthcare industry. Great opportunities are available for the experts who have the qualification to operate and understand the technology.
To make the career path easier and promising, OSPMC offers the three years' degree program in Radiation Technology. We include the practical approach in our course, which helps the students to become a valuable professional in the industry.
The bachelor program includes the knowledge of the X-ray technology, the posture and the procedure to complete the radiation scan. The developed skills during the program allow the students to handle the professional job effectively and grow as the radiation technicians.
Eligibility requirements
Qualification: The candidates with 10th, 10+2, B.Voc., B.Sc., B.A., B.Com. or any equivalent qualification can apply for the admission in the degree program.
Age: There is no age restriction.
The course structure
In this 3-year long degree program, the students go through multiple stages of learning. Both the theoretical as well as the practical approaches are leveraged to teach. The helpful faculty shape the skills of the students and prepare them for the real-world scenarios.
Career opportunities for the bachelor of Radiology Course
Multiple reputed government and private hospitals hire professional radiation technicians. After becoming a bachelor of radiation technician, one can join a reputed radiology centre, clinic or hospital as a supervisor. The degree will allow you to further grow in the career as you get more and more experience.
Why choose us
Our faculty members have served in the healthcare industry for years. Hence, you get to learn from the experienced professionals at OSPMC. Plus, the availability of latest technology allows you to practice your skills and become ready to start working immediately after the completion of the course.
Contact us now to inquire about the admission procedure.